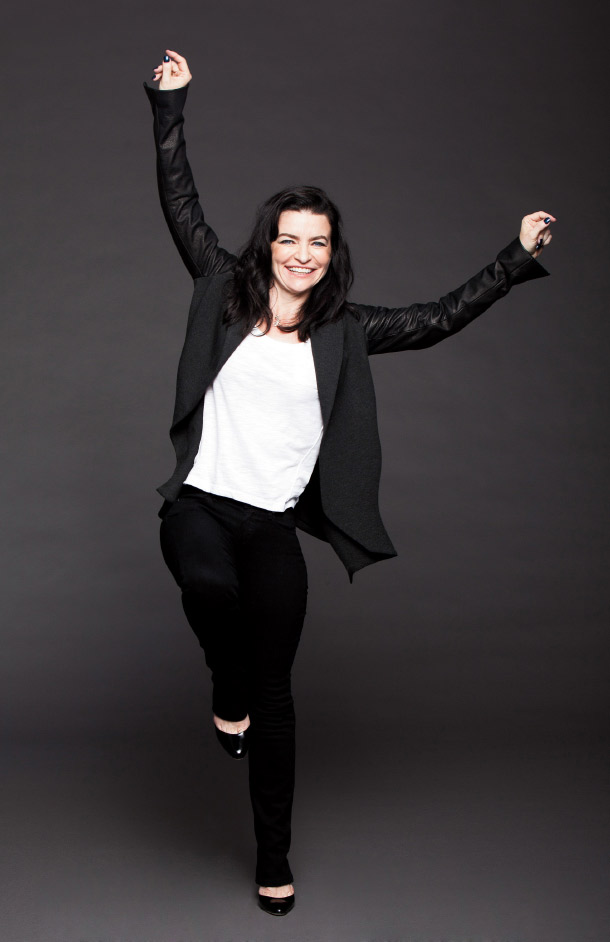 Dzana Homan
CEO, School of Rock
Dzana Homan is no shrinking violet. A survivor of the war in the Balkans, she immigrated to the U.S. from Bosnia in 1995. She spoke no English, but she had
a fierce desire to live in a free country. Now Homan, who took over the CEO
spot at Chicago-based School of Rock in June 2014, considers herself a classic American success story.
After earning her master's in electrical engineering from New Mexico State University—she already held degrees in piano and physics from the University of Ljubljana in Slovenia—Homan landed a job in robotics at the Jet Propulsion Laboratory, NASA's R&D center in La Cañada Flintridge, Calif. However, she needed to wait six months for grant funding to begin.
Reluctant to sit idly by, Homan took a position teaching robotics at a local Futurekids franchise. She loved the business and her work with children—so much so that she became the center director. Homan never did take that job at JPL, instead sticking with Futurekids, eventually joining the corporate team and being named CEO less than two years later.
Homan, who has since held key roles at education franchises Goddard Systems and Huntington Learning Centers, says her post at School of Rock marries her love of education with her passion for music, which she has studied since age 6. She credits her career success to fearlessness, hard work and a tenacity that influences everyone around her.
"If you are matching up opportunity with gumption—the time that you need to dedicate to this, the persistence and audacity—people are just going to say, 'You know, if I tackle that woman, it's going to get complicated.' They back off and engage with you in a productive way," she says.
She leads more than 145 School of Rock franchises in eight countries, helping to develop the next generation of musicians. Homan is quick to tout the benefits of children learning to play instruments, including better grades and discipline and higher high-school graduation rates.
"[Playing together] calls out for an incredible capacity to respect other people, to have patience, to not judge other kids based on their age," she says. "It teaches children to care for each other and respect each other in so many ways."
Indeed, although she has faced obstacles both personal and professional, Homan prefers to focus on the positive.
"A war zone prepares you for all sorts of things," she says. "I don't want to say that everyone should have that exposure, but it puts most difficult things that you face later in life in a different perspective. Unless you're shooting at me, or someone is bleeding or on fire, I can handle it."
Rhoda Olsen
CEO, Great Clips
Rhoda Olsen had plenty of experience as a problem-solver when she joined the Great Clips executive team in 1987. At the time, Great Clips was led by three partners, including her brother, and was a regional chain of 180 salons. Olsen's background as a human resources consultant and as a manager at dairy giant Land O' Lakes, where she provided training and human resources assistance to 1,100 member co-ops, seemed a perfect fit for the challenges the salon chain was facing in the wake of rapid growth.
"When I came in, all the issues were operations issues," she says. "But I had training in people and facilitation issues, which helped me. I did a lot of human resources and problem-solving."
Her skill at smoothing out systems put her in the president's chair in 1998, when Great Clips had 1,183 locations. Since then, she has seen the Minneapolis-based company grow to more than 3,600 units. She was appointed CEO in 2010.
But Olsen has seen her share of pain, too. As her career blossomed, she and her husband watched their three sons struggle with serious life issues. She's open about those stories, she says, because too many women don't speak out about their
challenges, and it's exhausting to keep up the facade of perfection.
"Many women want others to believe they have perfect lives. They won't say, 'Hey, my life is full of pain. Our kid has a problem with alcohol and drugs.' Then, all of these women around them compare themselves and aspire to lead perfect lives that don't exist," she explains.
Within the Great Clips organization, whose 10 executive team members include seven women, Olsen struggles with whether to "call out" women leaders by providing specific support programs. However, she still sees the issues of social conditioning and juggling work and family as significant challenges to more women than men. As a result, the organization focuses on mentoring and training as key priorities to helping all employees develop leadership skills and balance family life with executive roles.
"Women often don't see themselves in high-level positions," Olsen says. "They do need someone to tap them on the shoulder and say, 'You can do this. You can make it work.'"
Olsen also believes in the power of physical health and fitness. At 62, she can do 200 "guy push-ups" in about 45 minutes and works out with weights every other day. She believes exercise, regular checkups and stress management are all key to being a clear and focused leader. "I couldn't do my job unless I worked out consistently and very hard. It's given me confidence and helps me think more clearly," she says. "Too often, women sacrifice their own health for the other demands in their lives."
Eileen Huntington
Co-founder, Huntington Learning Centers
In 1977, Eileen Huntington was working as a high-school teacher. She was
troubled when she saw students struggling, in need of more structure and assistance in reading and math. At the time, there was no real tutoring industry. She and her husband, Raymond, who was working for AT&T, decided to create a business that would help children learn, and they tested the idea in the summer so she could decide whether to quit her job at New Jersey's Bound Brook High School.
"There was no model to follow. We said, 'What do we have to lose?' Of course, my parents thought I was crazy to give up such a secure job," Huntington recalls.
The couple placed ads in the local newspaper, and people called. The tutoring services kicked off in June, and by summer's end, the results with students
and the positive word-of-mouth from parents convinced them that they were on to something. They refined the curricula, focusing on teaching basic skills to help students develop the foundations on which to build their educations.
After seeing their business grow to eight locations, the couple aimed to take Huntington Learning Centers nationwide. But if they maintained control of each
location, their resources would likely limit them to opening one to two locations each year, they believed. So they turned to franchising. Today, Oradell, N.J.-based Huntington Learning Centers has 260 U.S. units.
Huntington says her leadership style focuses on positivity and high expectations. She consistently compliments good work and isn't afraid to retrain people when there are areas that need improvement. She and her husband believe that has been instrumental to their success from the beginning.
"We had a challenge finding really great people," Huntington says. "Once you find those people [the challenge] is working with them and also understanding that you have to change."
Those changes have included embracing technology. Huntington Learning Centers is rolling out a new system for franchisees called the "eCenter," which integrates administrative functions, including scheduling, as well as computer-based curricula. Huntington claims this provides franchisees with a competitive advantage in the industry.
The company has also recently changed its franchise model, cutting overall costs including franchise fees; reducing the size of its stores to bring down real-estate costs; and offering online training so franchisees don't need to travel to the company headquarters in New Jersey. This lets more people have a shot at owning a Huntington Learning Centers franchise. And those franchisees are dedicated and enthusiastic.
"Everybody gets excited about it, because we're not making ribbons," Huntington says. "We're working with children. When a child calls up and says, 'I got on the honor roll for the first time,' you are just over the moon for that."