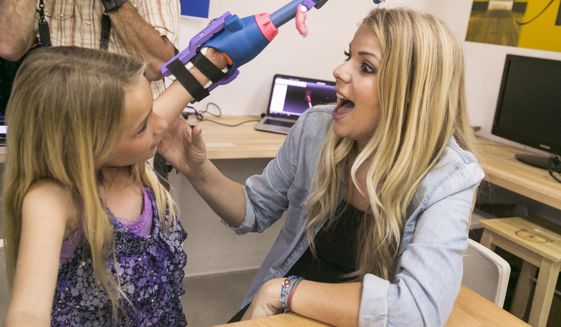 LOS ALAMITOS, Calif. (AP) – Seven-year-old Faith Lennox never thought much about putting a prosthetic limb where her missing left hand had once been.
Not until the little girl learned she could design her own, strap it on easily and then jump on her bike and pedal away at speeds previously only imagined.
With family members occasionally shouting "Be careful" and "Watch out for that car," Faith firmly placed her new hand's bright blue and pink fingers on her bike's left handlebar and took off for a seemingly endless sojourn around the Build It Workspace on Tuesday morning. Inside, just a short time before, that hand had rolled off a 3-D printer that built it overnight.
"I don't think we'll ever get her off it," said her mother, Nicole, smiling with resignation as she watched her daughter continue to circle the parking lot in this Orange County suburb.
The prosthetic that had just made such a task immediately easy represents a breakthrough in small, lightweight hands that are economical and easy for children to use. It weighs only a pound and costs just $50 to construct out of the same materials used to make drones and automobile parts.
When Faith outgrows it in six months or a year, a replacement can be made just as cheaply and easily, said Mark Muller, a prosthetics professor at California State University, Dominguez Hills, who helped with the design. He said a heavier adult model with sensors attached to a person's muscles would run $15,000 to $20,000.