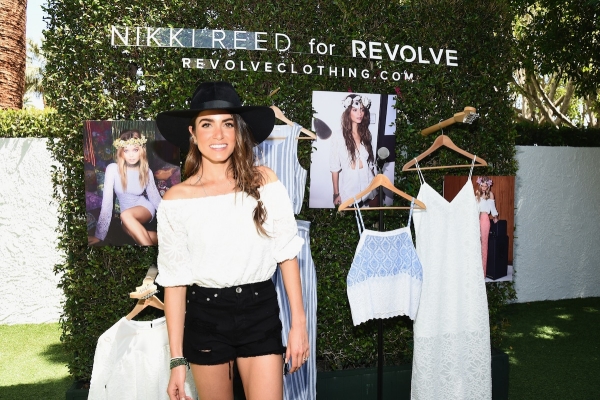 During the first weekend of the Coachella Valley Music And Art Festival, Nikki Reed debuted her new collection with REVOLVE Clothing at a special People StyleWatch Event at The Avalon Hotel in Palm Springs.
The 10-piece range, now available on revolveclothing.com includes festival-inspired boho styles such as wide-leg pants, embroidered tanks and long cream slip dresses. At the launch party, the 26-year-old showed off one of her own crop top designs from line, paired with STRÖM Brand shorts, The Frye Companyboots and floppy black hat.
We caught up with Nikki to chat more about her design inspirations, her festival must haves and whether she will be designing a certain white dress in the near future.
FashionTimes: Congrats on your new collaboration! You have designed jewelry in the past but what made you want to start doing clothes?
Nikki: I love clothing, and I love telling a story with what I wear, whether it's jewelry or clothing. This will be the first of many [collaborations]. I'm very excited to be doing this!
FT: Would you ever consider starting your own line?
N: Yeah. I haven't said that out loud before, but, yes, I would do that!
FT: You're a Southern California girl, how do you think that influences your style?
N: It's funny you say SoCal because although I was born in Los Angeles, I definitely associate myself with Venice/Topanga/Hawaii. I grew up in Venice so that's my vibe…effortless. You want to be comfortable, you want to be by the ocean and you want to wear materials that can move and flow and go with things that can be layered.
FNS: Did you have anyone in particular that you thought of when you were designing your collection?
N: I think, for the collection, I just decided to create things that felt like me.
FNS: What are your fashion festival must haves?
N: My festival style kind of goes with my lifestyle, so it's not one thing or the other. I'm wearing mostly cotton dresses that I'll tie up in knots, so that I won't trip. I'm going to wear a hat because of the sun and I've got a fanny pack and a backpack, and I'm just gonna go!