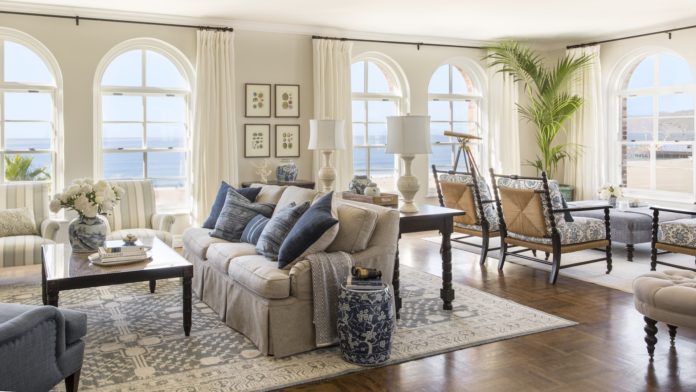 Not too long ago, The Hotel Detective reduced a hotel public relations representative to silence by doing something unthinkable: Begging not to be put in the Presidential Suite.
The Hotel Detective hates them.
They're inevitably too big, too overdone, too cold, too vain, too full of things that only a cabinet minister requires to confirm self-importance. The Hotel Detective remembers being in one such suite in the 1990s in Hawaii. All that chilly space led him to withdraw more and more, until he ended up one evening sitting on the bed in a pool of light, his belongings stacked on the bedside chair. In other words, he had turned the room into a cozy studio.
Well, THD has finally found a Presidential Suite he loves, room 710 at Casa del Mar in Santa Monica (below, http:hotelcasadelmar.com). It's really a Presidential Hideaway Suite, meaning despite having two bedrooms and three bathrooms, it eschews grandeur. It's more millwork than marble, perfect for someone who likes cashmere throws, scrollback armchairs, and needlepoint area rugs. The look is English country house translated into southern California Beach House. (You can get the look at Rooms and Gardens on Montanta Avenue in Santa Monica, the interiors firm that decorated the suite.)
So the room is cozy (two fireplaces), a space where a president could write a speech, if he could keep himself from being distracted by the billion-dollar view. Casa del Mar is right on the beach, which makes it, along with its sister property Shutters on the Beach, unique in Los Angeles. Room 710 is graced with seven arched windows in the living room alone–the view is across the beach and out to the horizon, and up the coast to the Santa Monica Mountains. The master bedroom above) has four arched windows looking out over the ocean and south (watch the jets taking off from LAX). The closets are big, contributing to the residential feel, as do the built-in bookshelves. You can get the same view from the 10 and 25 series suites at Casa del Mar, but THD advises going for one on the fifth or sixth floors, as they have higher ceilings.