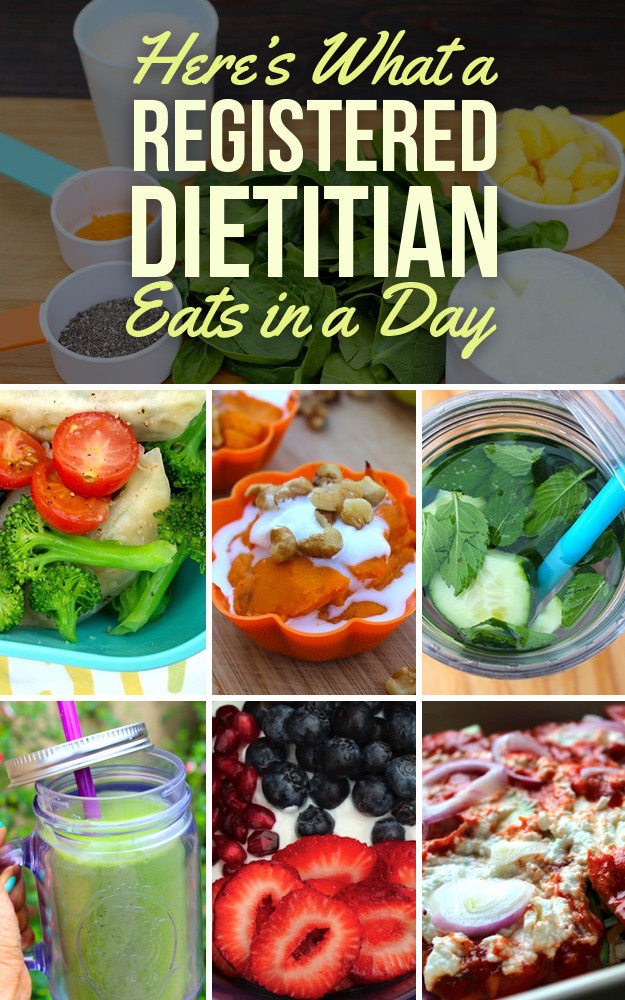 HI. I'M JESSICA JONES. I'M A REGISTERED DIETITIAN WITH A MASTER'S DEGREE IN NUTRITION.
I work as an outpatient dietitian for a primary care clinic in California. I spend my days teaching nutrition classes and counseling patients on healthy eating for weight loss, diabetes, hypertension, and high cholesterol.
DEGREES AND EXPERIENCE ASIDE, THE THING THAT MAKES ME FEEL MOST OFFICIAL IS MY DIETITIAN BADGE.
MY GOAL IS TO EAT AS HEALTHY AS I CAN. BUT LIKE EVERYONE ELSE, SOME DAYS ARE BETTER THAN OTHERS. TODAY, I'M GOING TO SHOW YOU EVERYTHING I EAT AND DRINK FROM DAWN UNTIL DUSK. YOU READY?
IT'S 7 A.M. AND FIRST THINGS FIRST: HYDRATION STATION.
I try to drink 8 to 16 ounces of my "spa" water (also known as tap water and mint and cucumber) when I first wake up. Having a water bottle that's at least 32 ounces makes getting enough water easier.
I pick the herbs and cucumber straight from my garden. You can also get these things from your local market.
SAY HI TO MY MINT PLANT. I CALL HER MINDY K.
TIP: If you have the time to think about it, try to put any herbs/veggies/fruit in your water the night before and let it soak in the fridge until the morning. So much more yum.
I TRY TO EAT BREAKFAST WITHIN AN HOUR OF GETTING UP. SINCE I'M USUALLY IN A RUSH, MY FAVORITE GO-TO BREAKFAST IS A GREEN SMOOTHIE.
Beware that not all green smoothies are created equal. Most people don't add enough protein, or they might overdo it a bit with the fruit.
HERE'S THE RECIPE FOR MY SMOOTHIE, AND ALL THE INGREDIENTS ALL LAID OUT:
• 2 cups of spinach (for vitamins)
• 1/2 cup of frozen pineapple (for sweetness)
• 1 cup of nonfat plain Greek yogurt (for protein)
• 2 tablespoons of chia seeds (for fiber)
• 1 cup of unsweetened vanilla almond milk (blend, baby)
• 1 teaspoon of cinnamon (this helps to regulate blood sugar levels)
• 1 teaspoon of turmeric (this is anti-inflammatory)
• Pinch of nutmeg (for oomph)
WHEN I DON'T HAVE TIME TO BE ALL CUTE WITH MY MASON JAR, I POP ON THE LID TO MY PERSONAL BLENDER, HOP IN THE CAR, AND CALL IT A MORNING.
The personal blender fits perfectly in my cup holder and I can usually finish the drink before getting to work.
TIP: Add the spinach, yogurt, chia seeds, and spices to your blender the night before. Then in the morning you only have to add the frozen fruit and almond milk. Blend and bam! You just saved yourself 10 minutes. I'll take the credit for that extra snooze.
AFTER BREAKFAST, MY FIRST SNACK OF THE DAY IS A GREEK YOGURT PARFAIT.
At work, I literally set my Outlook calendar for an 11:00 a.m. alarm to remind me to pause for my parfait. If I don't eat something by 11, say hello to Miss Hangry.
HERE'S WHAT'S IN THE MIX TODAY:
• 1 cup of nonfat plain Greek yogurt
• ½ cup of blueberries
• 1 tablespoon of pomegranate seeds
• A few slices of sweet strawberries
Yum and done.
TIP: On weeknights I put my lunch and ALL of my snacks in glass Tupperware the night before work. It takes 10 extra minutes and I am ready to go in the morning with NO EXCUSES.
12 P.M. MEANS IT'S TIME FOR A WORKOUT.
Weekdays I go to the gym during my lunch break for a quick fix of cardio for 30 minutes. On weekends I stretch it out at slow-flow yoga for an hour.
Fitness is like my midday caffeine boost. Without it I might as well retire after 1 p.m.
NOW. TIME FOR LUNCH.
On lazy days (which, let's face it, is most days) I throw some vegetable pot stickers + whatever veggies I have in a bowl. If I'm at work I cook them in the microwave until crispy. But since I'm home today — with no micro — I steamed my lunch for about 5 minutes.
I go through a lot of phases with lunch, especially at work. I'll get really into something and have it every day for a week…or three. A couple of weeks ago I had a veggie fajita phase; before that it was a baked potato with cheese and broccoli phase. Two months ago it was an "extra large kale salad that HAD to be eaten out of a jumbo bamboo bowl for the enhanced experience" phase. Whatever the phase, I try to pack my lunch the night before work.
OK, THE POT STICKERS ARE DONEZO. I SPRINKLE ON SOME FRESH CRACKED SALT 'N' PEPPA AND A COUPLE OF SQUIRTS OF BRAGG'S LIQUID AMINOS FOR THE WIN.
Nom nom nom.
AT 3 P.M. I HAVE A SLICED APPLE WITH A TABLESPOON OF CHUNKY ALMOND BUTTER FOR A SNACK.
How do I like them apples? Literally covered with cinnamon and nutmeg.
TIP: Chop your apples into smaller slices so it feels like the never-ending snack story. I pre-chop these bad girls, sprinkle my spices, and pack 'em up in Tupperware on workdays.
HERE'S A QUICK NOTE ABOUT ALL THESE SNACKS!
You may be wondering whether you should eat three large meals versus five to six smaller meals throughout the day. Research has shown that unless you have a digestive disorder, there isn't a significant difference between eating three meals a day and eating five to six smaller meals. It all comes down to what works best for you. If you haven't caught on already, I live for small meals and snacks. This is a personal thing. It might not work for you, and that's OK.
WHAT'S FOR DINNER? CALL ME A GOLDEN GIRL, BUT I LIKE TO DO DINNER BEFORE 6 P.M., EVERY DAY. I'M HUNGRY BY 5:30 P.M., AND 6 IS PRIMETIME IN MY WORLD.
Today's recipe: A five-ingredient lasagna that doesn't include a lick of pasta (not that there's anything wrong with that). I made this same lasagna last weekend and it was SHUT THE FRONT DOOR fantastical. You can get the recipe here.
NEEDLESS TO SAY I MADE IT AGAIN TODAY AND I'LL BE EATING LEFTOVERS DURING THE WEEK.
Kid tested, dietitian approved. No, seriously. My niece had some last week and loved it. This can be served with a slice of whole wheat baguette and simple spinach salad if you need a little more.
OK! NOW IT'S TIME FOR DESSERT.
Weekends are my time to test out new recipes for the blog. I know it's not the season, but I've literally been craving a sweet potato pie for weeks. Today I had to do something about it, so I'm making mini berry and sweet potato pies and homemade coconut whipped cream (because I couldn't find a store-bought whipped cream that wasn't filled with a bunch of gobbledygook). This picture was taken before I baked the pies. You can find the full recipe here.
AND HERE IS THE AFTERMATH!
Seriously the BEST dessert I've had all year and they only have 75 calories and 5 grams of (mostly fruit and vegetable) sugar each.
If having a treat every day is wrong, I don't want to be right. Today I had two.
AND THERE YOU HAVE IT — A DAY IN THE FOOD LIFE OF A REGISTERED DIETITIAN.
Here are the numbers:
• Total calories: 1619
• Total grams of fiber: 49
• Total ounces of water: 64
• Total foodgasms: 7
Now I can go to bed a very happy girl.
This is me with one of my best friends, Wendy. She also has her master's in nutrition. I guess you could call us nutrition nerds who love to eat, cook, and geek out over the scientific beauty of the electron transport chain. (True story.) Together we host the Food Heaven Made Easy YouTube series, and we publish new recipes to the site every Tuesday.