Ethnic minorities such as Latinos hardly appeared in early Hollywood and if so, were often typecast in negative, subservient roles. To celebrate some of the women who broke the mold, here we've compiled a list of our top five (ok four plus one Brazilian!) Hispanic silver screen stars.Dolores del Rio

Born into a wealthy Mexican family, Dolores del Rio had a strict convent education. At only 16 she was married to writer Jaime del Rio, a marriage which wasn't to last very long. As a distant relative of silent film star Ramon Navarro, del Rio was often invited to Hollywood parties, where one day she was noticed for her striking beauty.

Dolores quickly became a silent movie star, the first Latina actress with international appeal. As a fluent English speaker her transition into talkies was smooth in the Thirties, however her heavy accent meant that she would often be type-cast.

After a romance with Orson Wells del Rio returned to Mexico. Hugely popular in her native country, she rarely returned to Hollywood and was Mexico's biggest star throughout the Forties and Fifties.

Often considered by Hollywood to be the most beautiful woman of her time, del Rio's success was groundbreaking for all Latina actresses to come.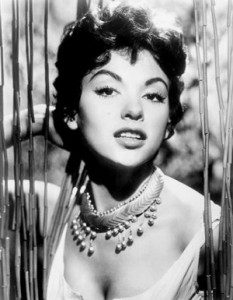 Rita Moreno
Born as Rosita Dolores Alverío into a poor family in Puerto Rico, Moreno moved to New York City at the age of five. Moreno was a gifted performer and was spotted by Hollywood talent scouts while performing on Broadway when she was only 13 years old.
Her first few film roles were small, however in 1961 she landed the role of Anita in Robert Wise's adaptation of Westside Story and shot to fame over night, earning an Academy Award for her performance, the first Oscar given to a Hispanic actress.
Still a successful actress Moreno continues to appear on stage and TV.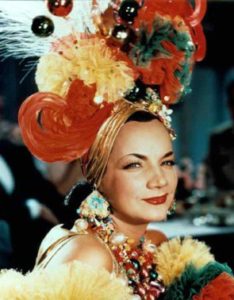 Carmen Miranda
Carmen was born in a small village in Portugal, but her family emigrated to Rio de Janeiro, Brazil, shortly after her birth. After working as a milliner for a while Carmen was soon discovered as a talented singer and started to appear on the radio. She quickly got a recording contract and became a huge star in Brazil, starring in many musical films.
In 1939 Miranda arrived in New York to conquer Broadway. She was encouraged by the United States government in her American career as part of President Roosevelt's Good Neighbor Policy, designed to strengthen links with Latin America and Europe. Miranda went on to become the country's highest-paid entertainer for several years in the 1940s, and in 1945, was the highest-paid woman in the United States, earning more than $200,000 that year.
Dubbed 'The Brazilian Bombshell' Miranda's film image was often a cliche, mixing Mexican, Hispanic and Brazilian styles into a flamboyant look, which was suitably exotic.
Unfortunately her private life was unhappy, and Miranda suffered from drug addiction leading to a fatal heart attack in 1955.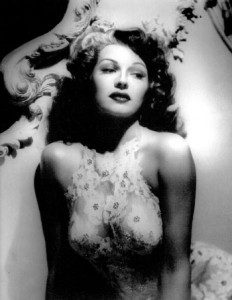 Rita Hayworth
Born Margarita Carmen Cansino in Brooklyn, New York City, she was the daughter of a Spanish flamenco dancer and an Irish-American Ziegfeld girl. Her father wanted her to become a dancer while her mother hoped she'd become an actress. Growing up in a family of performers, Rita appeared on stage from early childhood. By the age of 16 her dance performances attracted the attention from Hollywood, and Hayworth was signed by 20th Century Fox.
After being given a studio make-over, which included changing her hair colour to red and taking on her mother's English maiden name, Hayworth quickly became a huge star. Her curvy figure and erotic appeal made her one of the most requested pin-ups during the Second World War and earned her the nick name 'The Great American Love Goddess'.
Her image as a woman men couldn't resist was further enhanced by her five unhappy marriages, in particular her wedding to Prince Ali Khan in 1949. This publicity bonanza, fully exploited by the tabloids, made Hayworth into an international celebrity. She soon returned to Hollywood , however, and resumed her career, although she would never regain the fame she had in the Forties.
Hayworthcontinued to perform during the Sixties and Seventies until her death from Alzheimer's in 1987.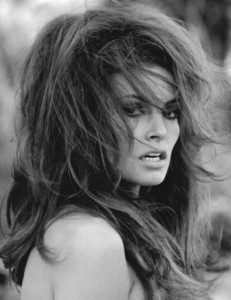 Raquel Welch
Jo Raquel Tejada was born in Chicago to a Bolivian father and Irish-American mother. As a teenager Welch entered beauty contests and worked as a model, waitress, and television weather-girl before making her film debut in 1964 with a part in the Elvis Presley film Roustabout. Her career took after she was launched as a sex symbol after her scantily clad appearance in One Million Years BC (1966).
In an effort to shed her sex kitten image and be taken serious as an actress, Welch starred in a few disastrous films until she received a Best Actress Golden Globe Award for her part in The Three Musketeers(1973). Nevertheless, Welch failed to find success in her subsequent projects.
Despite her failed film career, she continued to be regarded as a great beauty and her career went on to include nightclub entertaining, a Broadway musical and TV appearances. Welsh continues to appear in films and on TV today.