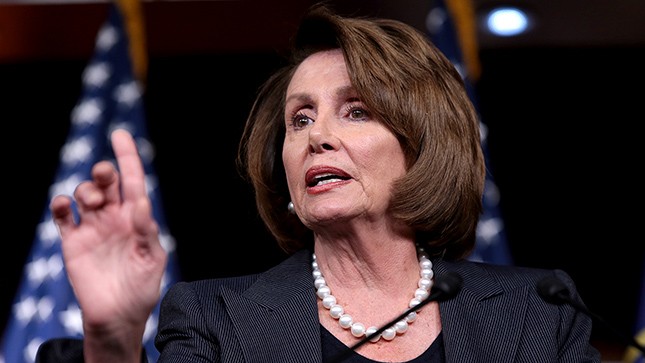 House Minority Leader Nancy Pelosi (D-Calif.) on Thursday amplified her criticism of the Democrats' presidential primary system, saying the states' pledged delegates — and not the superdelegates — should decide the winner.
"I'm not a believer in the sway of superdelegates deciding who is going to be the nominee," Pelosi told reporters in the Capitol. "I think we have a democratic process where people vote on both sides of the aisle … and that that should determine who the nominee is."
Pelosi made waves by making similar comments amid the 2008 primary contest between then-Sens. Barack Obama (D-Ill.) and Hillary Clinton (D-N.Y.). The move prompted sharp criticism from Clinton supporters because Obama, at the time, enjoyed a lead among pledged delegates and her remarks were viewed as a tacit endorsement of him.
The issue has also been controversial in this year's primary race, where Clinton holds a modest advantage over Sen. Bernie Sanders (I-Vt.) in pledged delegates, 595-405, but leads by a commanding margin, 1,052-427, when superdelegates are considered.
Superdelegates are party leaders, including Democratic lawmakers on Capitol Hill, who are free to vote for any candidate at the convention, regardless of how their states or districts come down. An overwhelming majority of congressional Democrats have endorsed Clinton, giving the former secretary of State a substantial advantage in the superdelegate race.
The contenders need 2,383 total delegates to clinch the Democratic nomination.
Pelosi has not endorsed a primary candidate but says she will do so before the contest is over. She has not indicated when.
"I have a great deal of respect for the voice of the American people," she said Thursday. "Thirty-five states have not voted yet, and I think that it would be important to hear from them."
The comments arrive as some Republicans, wary of putting the surging Donald Trump at the top of the GOP ballot in November, are floating the idea of staging a brokered convention in an effort to topple the controversial party front-runner.
Pelosi declined to predict how a Trump nomination might affect the Democrats chances at the polls in November — "Let the Republicans nominate who they nominate, and they we'll have that debate then" — but she also warned that the Republicans would face a political tempest if they sought to toy with the primary results.
"If somebody has the majority of the delegates from the votes of the people, I think that you change that to your peril," she said. "Whatever party you are."