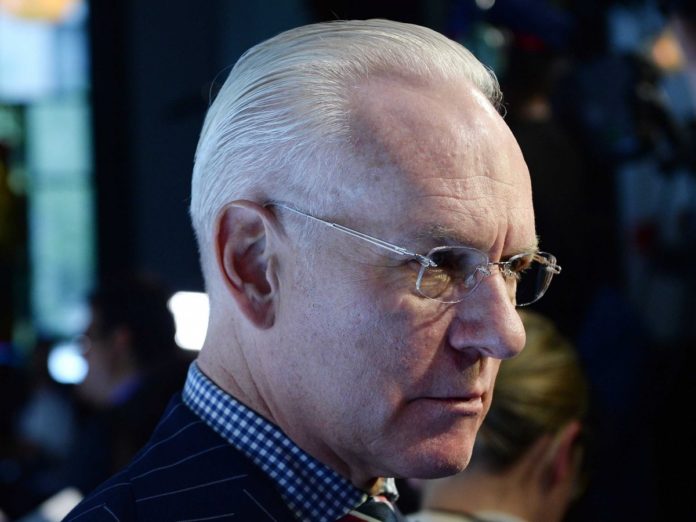 "Project Runway" star Tim Gunn wants presidential candidates to make it work fashion-wise in the 2016 race to the White House.
The fashionista weighed in on everything from the mock turtlenecks worn by Sen. Rand Paul (R-Kentucky), widespread Republican love for cowboy boots, New Jersey Gov. Chris Christie's oversized suits and Secretary of State Hillary Clinton's fashion evolution.
"For me it's everything," he said about candidate style, during an interview Wednesday onBloomberg Politics.
Here's what Gunn said about the state of the candidates' wardrobes.
Ted Cruz
Gunn lamented the influence of political consultants who advise candidates to choose outfits that eschew flair and controversy, pointing to the bland suit Sen. Ted Cruz (R-Texas) wore for the launch of his presidential campaign in March.
Cruz's campaign look scored a failing grade in Gunn's fashion book.
"I believe in authenticity, I believe that the Republicans writ large are all hiding behind a uniform of sorts. I really want to know who that individual is. Who is Ted Cruz when it comes to choosing his own apparel and accessories and even when it comes to grooming?" Gunn said of Cruz.
Gunn went on to encourage all the GOP field to go bolder with their clothing.
"I look at the clothes, in the current state, is just a matter of a blandness. Where if anything, the political views of the individuals are even more accentuated and in many cases with these Republicans, you don't want that to happen. So distract me with your clothing!"
Rand Paul
Gunn praised Paul's penchant for wearing jeans and mock turtlenecks, an outlier in the D.C. world of suits and khakis.
Paul, he said, wants to convey that he's a "country boy, man of the people, accessibility."
"I believe that that is within his whole bundle of semiotics when it comes to the message that his clothes are sending. And quite frankly, I think it's appropriate," Gunn explained.
Chris Christie
Though Gunn might be physically afraid of the New Jersey governor, admitting "I wouldn't want to be with a dark alley with him, that's for sure," he did advise the Republican to rethink the fit of his clothes.
"He needs suits that fit him better," Gunn said.
Gunn said Christie's size may make fashion "challenging," but he still didn't give the Garden State governor a pass.
"Whenever anyone talks about a larger man and how it's so challenging, look at James Gandolfini, may he rest in peace, he looked fantastic in his suits."
The coutoure expert concluded with a brutal assessment of Christie's current look.
"Christie looks as though he could potentially going into Wal-Mart and start shoplifting and no one would be able to tell," said Gunn.
Hillary Clinton
Mark Wilson/Getty Images
Gunn excused Clinton's 'fashion foibles' during her time at the State Department since she was travelling so much.
Gunn admitted he has experienced a "180 degree about face" in his opinion of Clinton's style.
"Mrs. Clinton is looking exceptionally presidential and what pleases me so much is that she does understand semiotics. She clearly gets it," Gunn said.
As first lady, Gunn said Clinton started as "frumpy," but underwent an "enormous arch of growth." He said Clinton exited the White House as "an angel of fashion."
Despite this praise, Gunn said Clinton's fashion cred took a dive during her tenure as Senator of New York and Secretary of State. In this period, Gunn said she favoured uninspired and ill-fitting pant suits paired with questionable coiffure.
"I forgave her a lot of her fashion foibles because she was awake 24/7 and constantly flying around and meeting and greeting," Gunn said of Clinton's time at the State Department, adding, "I'd be surprised if she had time to change her underwear."
Cowboy boots
Gunn had nothing but disdain for any cowboy boot wearing candidates.
Gunn said there is no place for cowboy boots in the race.
"I think they're too much of a stereotype and I feel it's too forced and contrived and old hat. It doesn't impress me even remotely."
He advised that even those contenders with Texas roots should ditch the accessory, and quipped they could even ditch the United States of America.
"I heard recently that they wanted to succeed from the union, may they please?"
Capitol Hill
Gunn didn't limit his advice to candidates with their eyes on the White House. He also took aim at the legislative branch, wondering "what's wrong with Capitol Hill?"
He praised Minority Leader Nancy Pelosi (D-California) for being "beautifully dressed and owning her gender," but said her male counterparts in both parties need help.
"When it comes to men, I don't even know what to say. Everything is at least two sizes too big, it's gotta stop."