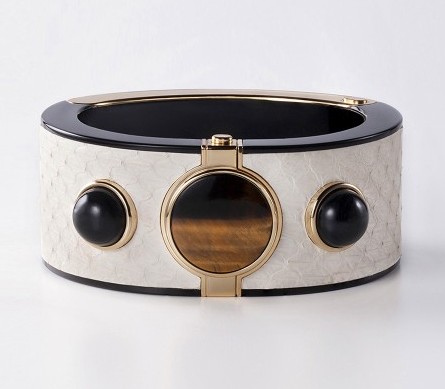 When was the last time your favorite accessory served an actual purpose, aside from looking fabulous? Multi-functional fashion is being taken to a whole new level with the advent of wearable technology–and I'm not just talking about your average pedometer. The newest wave of tech fashion is as sophisticated as it is stylish. FromApple AAPL +0.85% to Fitbit, all your favorite tech brands are getting in on the action. Whether strapped to your wrist, hanging around your neck or adorning your ring finger, these spruced up gadgets have nestled comfortably right at the intersection of fashion and technology. Here's a roundup of the best looking wearable gadgets you'll want to pick up for Spring.
Tory Burch for Fitbit
We've come to count on designer Tory Burch to bring classic American chic, year after year. She never shies away from using color and patterns in her design and now, she's taking things one step further by integrating technology! The Tory Burch for FitBit line boasts wrap bracelets and necklaces that are perfectly sized to hold the FitBit Flex, with a more stylish flare.
Casetify for Apple
Casetify has been satisfying the DIY-itch in us all by offering customers the option to design their own phone covers with customizable images and personal photos. Now, the company is expanding to include Apple's shiny new attraction, the Apple Watch. Although this particular contraption won't be available until April, you can prepare by creating a wrist band that preisely fits your taste by clicking on over to the brand's website or even their mobile app!
Intel has partnered with retailer Opening Ceremony to produce this accessory that actually looks more like a piece of jewelry than a device at all. MICA differs from other wearable tech options in that it doesn't connect to your smartphone or tablet, but employs its own cellular radio that allows you to receive messages, various social media notifications, GPS and more. Talk about a multi-functional piece!
Rebecca Minkoff for Case-Mate
Case-Mate is already known for their stylized mobile accessories, but the style factor is taken to the next level with their collaboration with famed designer, Rebecca Minkoff. Many fancy finds like chargers and cases can be found in the collection, but the true star of the line is the Lighting Cable Bracelet. How many times have you been up a creek when desperately seeking a cable to link Apple device to a computer? Now, you can literally always have one handy.