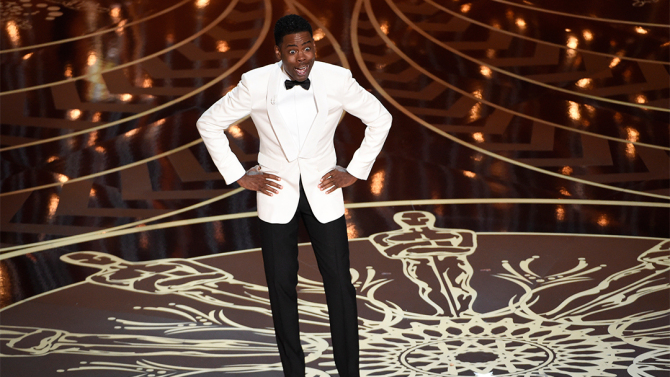 Chris Rock's Oscar Monologue Review: Scathing and (Mostly) Effective
[dropcap]D[/dropcap]espite repeated protests about its lack of diversity over the years, Hollywood does a fine job of engaging in repetitive amnesia about its pervasive and longstanding biases. Chris Rock, in other words, was in a target-rich environment on Sunday, and he didn't waste the opportunity. 
Rock's scathing and generally well-crafted monologue at Sunday's Academy Awards recalled the episode of "Black-ish" that aired on the same network just a few days ago. Rock's opening minutes were entertaining, but they made an array of serious points. 
"Is Hollywood racist?" he asked at the mid-point of his withering monologue, which had the audience laughing and occasionally cringing as well. It's not "cross-burning racist," he acknowledged.
"Hollywood is sorority racist," he said. "'We like you Rhonda — but you're not a Kappa.'" 
He recalled meeting President Obama at a Hollywood fundraiser, where Rock was one of only a few black attendees. In the few seconds he had with the President during a photo op, Rock quickly sketched out the slippery yet pervasive racism that pervades the entertainment industry. 
"You see all these writers, producers and actors?" Rock remembered asking the president. "They don't hire black people — and they're the nicest white people on earth. They're liberals!"
Rock was unafraid of going to uncomfortable places, to his credit. The In Memoriam segment this year, he joked, would be a montage of black people shot by cops on their way to the movies. Mixed amid the awkward laughter were some "oohs," but Rock, a skilled stand-up comic of remarkable dexterity, wasn't fazed. 
In the least-successful parts of his monologue, he digressed from his main theme. At one point, he riffed on Jada Pinkett Smith's boycott of the Oscars, noting that she's more known for her TV work than her film roles of late. 
Pinkett Smith staying away from the ceremony would be like "me boycotting Rihanna's panties. I wasn't invited," Rock said.
The crass, unpleasant joke didn't quite land, nor did a rather tired joke at the end of his monologue about how actresses are protesting the superficial questions they're typically asked on red carpets. His mockery of "Ask her more" seemed out of place in a monologue that otherwise asked pointed questions about Hollywood's systematic biases. 
"Everything's not sexism, everything's not racism!" Rock said, but it was hard not to wish he'd trained a little of the firepower he brought to the topic of race on the hurdles faced by actresses in a town with a long history of gender bias.
In the main, however, Rock was there to riff on how white Hollywood is, and on that topic, he was remarkably effective, which was no surprise (and those jokes were reinforced by some effective pre-taped segments starring previous Oscar host Whoopi Goldberg). There may not have been many protests like #OscarsSoWhite in the sixties (as he noted, "When you're grandmother's swinging from a tree, it's really hard to care about best documentary foreign short"), but it's not likely that anyone will forget about the issues of inclusion and bias in the coming year. Or will they?
Whatever happens in the Oscar race this year, as Rock noted, it's quite likely that Leonardo DiCaprio will get another great role in this year, and next year, and the year after that.  Jamie Foxx and other black actors aren't likely to be as lucky. 
"We want opportunity," Rock said. "We want black actors to get the same opportunities as white actors, that's it."
It wasn't a joke, but it came amid an array of jokes that gave no quarter to Rock's pampered audience. Let's just hope Rock doesn't have to say it all again next year.